Lawcrusher
Senior Member




1380 Posts
Posted - 04/22/2019 : 1:56:57 PM
---
Through 25+ mph winds, rain, and transitions, Team Stone Age was able to grind out the win.

Midlands Striper Club held its monthly Lake Murray tournament out of Acapulco, SC on April 20, 2019. 35 teams participated in the event bringing 57 striped bass to the scales weighing a total of 350.46 pounds with a 6.15-pound average. 27 teams were able to bring a full two fish creel to the scales.




Finishing in first place with a total weight of 17.64 pounds was Team Stone Age captained by Rick Sineath, along with Liz Sineath, both from Lexington, SC. Team Stone Age also won the Justin Christopher Big Fish Award sponsored by The Nichols Store with a 9.16-pound Striper.




Finishing in second place with a total weight of 15.87 pounds was Team Well Hung captained by Brett McDowell, along with Jason Tarlton and Jacob BLack, all from Saluda, SC.




Finishing in third place with a total weight of 15.66 pounds was Team Been Lure'd In captained by John Temple from Gilbert, SC, along with Ty Taylor from Lexington, SC.




Lady Angler Award went to Liz Sineath from Team Stone Age.




Youth Angler Award went to Gabe Jones from Team Jones Boys.




Finishing in eleventh place with a total weight of 13.03 pounds was Team Next Time.




Finishing in eighteenth place with a total weight of 1.75 pounds was Team Garheart.




Smallest creel went to Team Reel 'Em Up with a total weight of 4.84 pounds.




The Synergy Therapy Life Release Award winner was Team Stone Age who released a 9.16-pound striper and an 8.48-pound striper.




The Palmetto State Armory Fishing Outpost prize went to Team Catchall.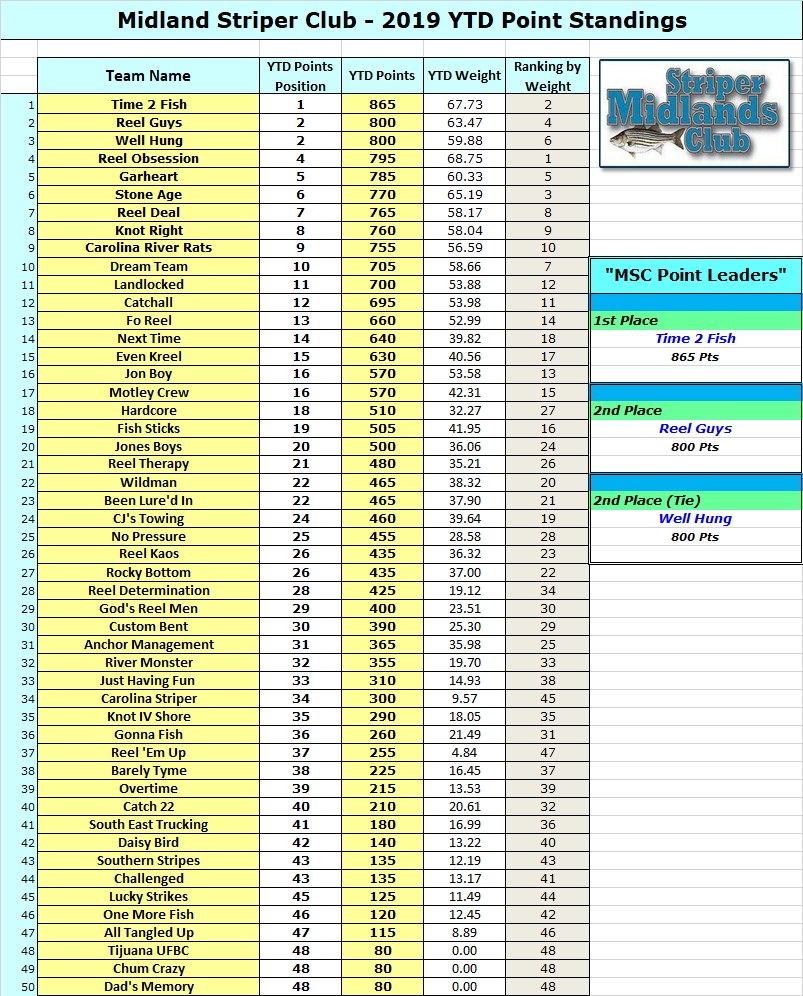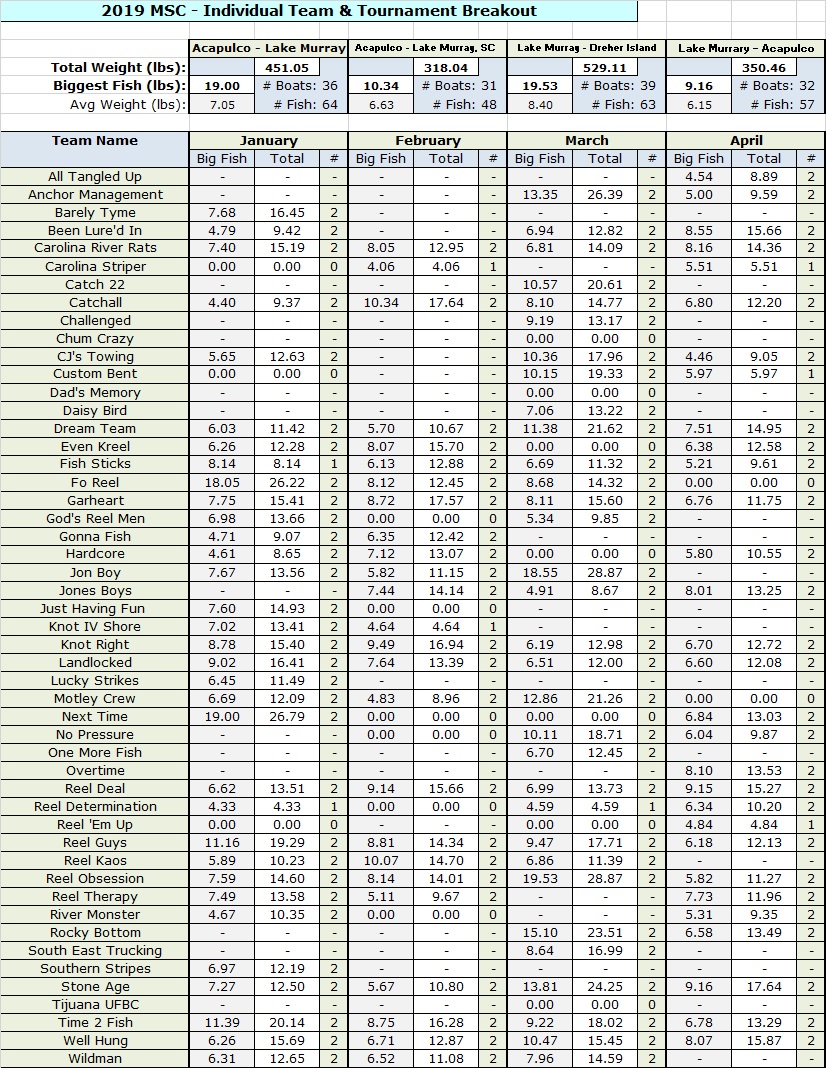 Midlands Striper Club is a family oriented fishing organization dedicated to preserving our fisheries for generations to come. MSC's next monthly meeting is scheduled for May 14th at 7:00pm at the Flight Deck in Lexington, SC. Please visit www.midlandsstriperclub.org or email info@midlandsstriperclub.org for more information on MSC and how you can get involved.


... it's my Wife's fault we HAVE to fish !!!



2005 Sea Pro 2100cc / Yamaha 150hp 4-Stroke